According to NHS Choices, psoriasis is a skin condition that affects around 2% of people in the UK.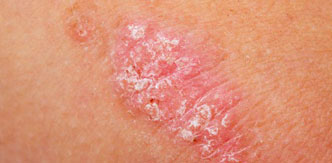 Psoriasis causes raised, flaky, red patches on the skin.
The patches can appear anywhere on your body, but are typically on the elbow, scalp, knees and lower back.
Scientist have now revealed that men with psoriasis have a higher chance of suffering from erectile dysfunction.
Erectile dysfunction is a condition where the penis does not harden and expand when a man is sexually excited.
Experts studied the sexual function in 191 men with psoriasis and 191 men who do not have the skin condition.
The results showed that 53% of men with psoriasis suffered from erectile dysfunction, compared to only 40% of those without psoriasis.
It is known that men with psoriasis are often obese or have other cardiovascular risk factors that may restrict blood flow in the body including the penis – which causes erectile dysfunction.
To read more CLICK HERE
For more information on Psoriasis CLICK HERE
If you suffer from erectile dysfunction, please go to www.ukmeds4u.com for your free e-consultation.