Sildenafil, the active ingredient in Viagra, was originally developed to treat heart conditions, but during original trials it was found to be more effective at treating erectile dysfunction (also known as impotence).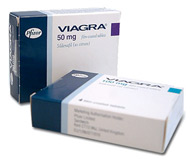 But now, scientists have warned that the drug could increase the risk of melanoma – the deadliest form of skin cancer.
Researchers at the University of Tübingen in Germany have discovered that Sildenafil can encourage tumors to grow more rapidly.
A recent study found that Sildenafil can stimulate skin cancer growth.
Sildenafil has a stimulating effect on the messenger molecule cyclic guanosine monophosphate (cGMP), which promotes the growth of existing malignant melanomas.
The scientist came to this conclusion through animal experiments and human cell cultures.
Cells normally contain an enzyme called phosphodiesterase type 5 (PDE5), that ensures the newly-formed cGMP is continuously broken down.
But, Sildenafil belongs to a group of medicines called phosphodiesterase type 5 (PDE 5) inhibitors.
Study author Professor Robert Feil said: 'Taking sildenafil basically disables this brake.'
Consequently, the melanoma begins to grow more aggressively.
However, the study noted that there is no reason for men to stop taking PDE5 inhibitors to treat erectile dysfunction.
The researchers also have to take into account that the possibility that a higher incidence of skin cancer may be due to lifestyles, including sunbathing on holiday.
Professor Feil warned: 'Ultimately, we should all be thinking about reducing our risk of skin cancer and cutting our exposure time to the sun, as well as using effective UV protection.'
Sildenafil is marketed as Viagra and was approved by FDA (The Food and Drug Administration) on 27th March 1988. Pfizer's patent on Sildenafil expired on 21 June 2013.
If you are concerned that Sildenafil (Viagra) could increase the risk of skin cancer then there is other alternative prescription only  medication for erectile dysfunction such as Cialis and Levitra.
For further information about Sildenafil (Viagra) and other erectile dysfunction medication, please go to www.ukmeds4u.com.
To read the full article, please click here.